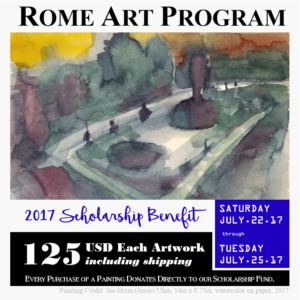 Scholarship Benefit Art Auction – Rome Art Program
From Saturday, July 22 at 10am (EST) – through Tuesday, July 25
The Scholarship Benefit will be featured Online Only
You are cordially invited to the Rome Art Program 2017 Scholarship Benefit, which will be featured Online Only from Saturday, July 22nd 2017 through Tuesday, July 25th. The auction will begin at 10am(EST) July 22nd.
Every purchase of a painting donates directly to our Scholarship Fund. We thank you in advance for your generosity.
To view paintings please visit our Online Gallery
Each Artwork: $125 including shipping
Scholarship
A gift to the Rome Art Program provides an opportunity for you to play a significant role in the life-changing experiences of our students. We are able to offer a small number of student scholarships this year to young artists who exhibit exceptional promise. Students selected for sponsorship have a portion of their tuition fees waived, enabling us to open up the opportunity of study in Rome to those with exceptional talent and applicants from lower income backgrounds.
RomeArtProgram — Art as Power
.