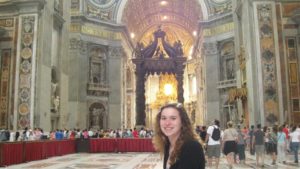 From the 2012 RomeArtProgram has selected Emily Thompson Alumna
to contribute to Throwback Thursday
–>Emily Thompson: At eighteen years old I packed up a suitcase and hoped on a plane to Europe.
I had been accepted to a month long intensive art program known as the Rome Art Program, which focused on plein-air painting and drawing.  This month may have been one of the most life changing experiences of my life.   At the time I had a limited formal artistic education, so my skills were a bit unsophisticated.  I got caught up on the details, which young artists frequently do.  The Rome Art Program changed all of this for me. I learned to take risks in my work. To put a mark down and leave it.  To feel the energy of a subject and attempt to capture that.  But most of all I learned a love of plein-air painting. Nothing will ever compare to sitting amongst the hustle and bustle of the city and creating. To feel the eyes of strangers peeking over my shoulder, and to see an appreciative smile on their faces as they walked away.  But above all plein-air painting captures memories.  Even now as I flip through my work from my time in Rome, I find that each piece takes me back to the exact moment in time when I was working on it. I can remember the smell, the noise, the feel of the air on my face, and the emotions I was experiencing while working.  Nothing in the world can capture a moment in that way. Throughout my short time with the Rome Art Program, I had so many fantastic experiences. From making new friends from around the world, to learning about a new culture, and to appreciating the artistic haven that is Rome.
Since my time in Rome, I went on to attend one of the best art schools in the country, Tyler School of Art, Temple University. While there, I studied painting and art history. In the summer of 2015 I returned to Rome to study abroad with Temple, wishing to immerse myself in the beauty of the city which I had fallen in love with.
During my time in school I created two murals, one for a small town diner, and the other for The Ronald McDonald Charity House. I had a solo show at the Stella Elkins Gallery, where I showed a body of work expressing the drama of capturing the tension in a single moment. A year later I participated in a group show titled 'Social Art'.  Following my graduation I worked in an art center for adults with intellectual and developmental disabilities. After a year and half enjoying making art and finding creative solutions I decided to follow my love of travel and I left the country to volunteer for a year in Ireland. Currently that is where I reside, making art and seeing where my love of art and travel will take me next.
romeartprogram.org
#romeartprogram
#EmilyThompson
Rome Art Program – Art As Power