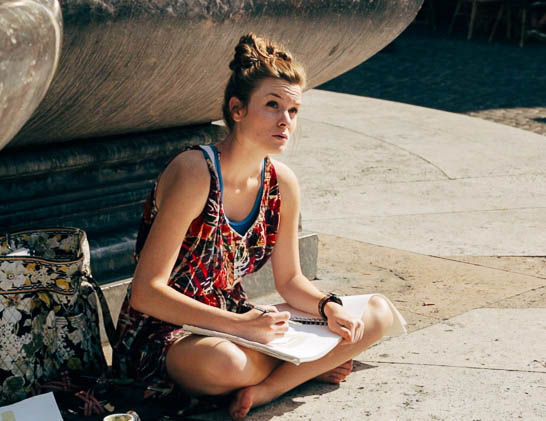 "I now see all the dreams of my youth coming to life… Only in Rome is it possible to understand Rome".
Johann Wolfgang von Goethe
In 2009, the Rome Art Program launched to great success. We are tremendously excited as we embark on our ninth year as a not-for-profit educational program. We maintain our focus on plein-air painting and drawing, continuing to develop and  build upon the achievements we have had in our previous years, and looking forward to a future where we are able to open up the program to even more students from a great variety of different backgrounds.
A gift to the Rome Art Program provides an opportunity for you to play a significant role in the life-changing experiences of our students.
The Program's ideology is based on the compelling impact first-hand observation and perception have on painting and drawing. The studio is the street. Students paint on location and also work with our distinguished international faculty, drawing from masterworks in churches and museums. The program is complemented by weekly on-site lectures by expert art historians, visits to contemporary galleries, and lectures at the American and British academies.
We are seeking donations that make the program affordable for younger and mid-career artists.  Please support their painting ventures in the country that has given the world such monumental art.
Your contribution of any size is very much appreciated, and we thank you in advance for your generosity.
Support a Dream
Trevi Fountain $50
Piazza Navona $100
Pantheon $250
The Spanish Steps $500
Donor will receive a student drawing of Rome made in summer 2018
4 week full Rome Scholarship $2195
Donor will receive a student watercolor painting of Rome made in summer 2018
8 week full Rome Scholarship $3595
Donor will receive a student drawing and a watercolor painting of Rome made in summer 2018

Scholarship
Your contribution helps us to offer a number of student scholarships this year to young artists who exhibit exceptional promise.  This enables us to open up the life-changing opportunity of study in Rome to those with exceptional talent and applicants from lower income backgrounds.
All gifts qualify as charitable donations and are tax deductible to the full extent allowed by law.