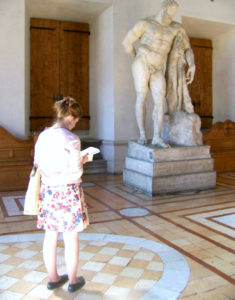 RomeArtProgram's Quinn McNichol – Alumni of the Month to contribute to the "Throwback Thursday"
–>Quinn McNichol : "I traveled to Rome for a month-long study with the Rome Art Program and I had recently graduated with my BFA from Pennsylvania College of Art and Design. At the time, I was making large paintings and drawings, working from direct observation of my studio and my reflection in the mirror.
The challenge this program set for me took me by surprise; the elegant, romantic pictures I had seen in books of the landmarks and street scenes of Rome lacked the tremendous weight of experiencing the city in person.
I felt small and vulnerable in my attempts to capture what I saw, finding that my ego was no match for the formidable walls of the Pantheon, or the elegance of Bernini's fountains.
I was entirely overwhelmed by the streets and monuments; they demanded I look closer and honor their presence. Through my studies, I began to discover the difference between looking and truly seeing.
Simply looking at the surface of a subject yields superficial results. To create from life is to dig much deeper than the surface- to turn over the rocks, examine all sides and to truly connect with your motif. This understanding did not come right away. Rather, it has slowly emerged as little flickers of memories from Rome cross my mind while I am painting.
Since my trip, I have been an Emerging Artist in Residence at Millersville University, and continued my painting studies at Chautauqua Institute, Mount Gretna School of Art, and was most recently a resident at the Vermont Studio Center. I have also worked privately with an art healer who has helped me further examine my life experience in the context of the work I make.
I currently live in Philadelphia, and work out of my home studio, painting introspective narratives about how I see the world around me, and what I wonder and dream about.
romeartprogram.org
#romeartprogram
#QuinnMcNichol
Rome Art Program – Art As Power