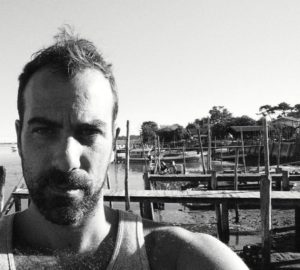 RomeArtProgram's Luc Dubois -Montreal, Canada- 2015 Assistant to the Artistic Director, to contribute to the "Throwback Thursday" memories, to enrich our artistic research.
–>Luc Dubois : "Since the Rome Art Program, I have continued elaborating on a major project that consists of a center figurative marble figure awakening and surrounded by a mesh or "maillage". The inspiration for this project is the 9 BC altar dedicated to a piece at the Museo dell'Ara Pacis.
During the Rome Art Program, I went to the museum and took elaborate measurements to be able scale this project. I also used the restoration of the Trevi Fountain and Colosseum as my base inspiration for a work in progress, restoration, restitution. In order words, I have taken the liberty to make my Major Project as a continuous and colorful assemblage.
This main project has evolved alongside other projects, as well as my regular job as a building engineer, drone operator, and 3D scan operator, which gives my art the proper technological push to see further into the effect of technology upon our visual palette and appreciation of the world we live in. I have also participated and collaborated in photography exhibitions with a Brazilian group, and I also made wearable sculptures in collaboration with a fashion designer.
I am currently set to participate in a group exhibition in Miami, at the Macaya Gallery -Wynwood District, which will also show some of my work taken from my Roman production in 2015.
It is for the poetry of space and its atmosphere that my work takes its vigor, amplitude and reason of being. The intention of my work is to assemble elements, materials, techniques and forms that represents an intimate emotional response from my personal experience of life.
The use of colors and painting skills, with the help of photography have become integrated tools that bring me to a maturity that reflects well with and within my actual art research.
I truly believe the Rome Art Program has allowed me to take time to investigate to an exhaustive level my emotional response to a city that holds many keys to our modern world.
The dedication of the artists running the program makes this outdoor creative time memorable and now its unavoidable to feel Rome and its many unrevealed secrets".
romeartprogram.org
#romeartprogram
#LucDuBois
Rome Art Program – Art As Power