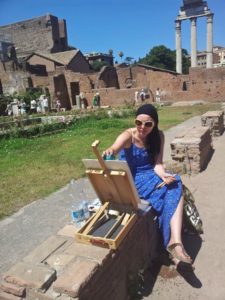 RomeArtProgram"s Rhiannon Rebecca Salisbury 2012 Alumna to contribute to the "Throwback Thursday" memories and to enrich our research:
-> Rhiannon Rebecca Salisbury : "Our month in Rome began with a bang, as Italy was in the World Cup Finals. I had never seen such a big crowd as the one gathered in the Circus Maximus that night, the high's and low's of the evening were spectacular, and the drama felt akin to something that could have been witnessed in the same place thousands of years before. Rome is truly awe inspiring. You can feel the history pumping through your veins, but also feel the passion and intensity of the Italian capital in everything that envelops you, from the heat, to the food, to the lively animation of the people. The program was exceptional. Drawing and painting from observation in the city every day helps you forge a direct and personal relationship with Rome in a way no touristic experience will ever provide.
Through the critiques we had with Carole Robb, I learnt more about painting in one month then ever before. The Rome Art Program opened my eyes to painting in a new way, and was an invaluable step in my path towards becoming an artist.
Since the Rome Art Program I have completed my Diploma at The Art Academy with a First Class Degree. I was awarded the John Hoyland Schoalrship, to study my MAFA at Chelsea College of Art, UAL, London. I have been awarded international residencies, one in Malaysia at Rimbum Dahan, and one in Mexico in Guadalajara. I have gained a place on the Turps Painting Program, where I am now studying from in London. I work as a tutor in painting in drawing, alongside my practise. I have exhibited my work widely in London, and have pieces in private international collections".
romeartprogram.org
#romeartprogram
#RhiannonRebeccaSalisbury
RomeArtProgram – Art as Power