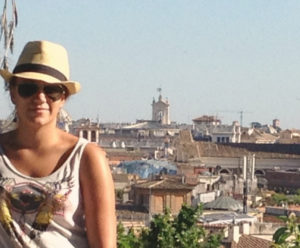 RomeArtProgram's Yara Abdellatif to contribute to the "Throwback Thursday":
->: "After completing my Journalism degree in Cairo, Egypt, I decided it was time to explore a new challenge and that led me to the Rome Art Program. I wasn't sure what career path to pursue but I knew I wanted to do something that would inspire me and take me out of my comfort zone.
We spent our days and nights painting and drawing, and when the program was over I could not believe the amount of work that I managed to complete. I believe it was the combination of the program coursework and mentor guidance along with being in Italy, where every brick drives your inspiration to new heights. I found myself drawn to the night painting part of the program. As Rome's sun sets the effect it has on the colours and the composition of my surroundings was a captivating experience. There was a pleasure in painting without knowing how the artwork would be illustrated and finished. My experience in Rome allowed me to self reflect on who I am and what I wanted to do.
Shortly after leaving Italy I moved from Egypt to Australia. My experience in Rome drove me to look into doing studies in fine arts. After research and a few courses here and there, I made the decision to pursue fashion. I am currently in my graduate year at Melbourne Fashion Institute, working on my graduate collection. Fashion design is quite similar to holding a paintbrush to a clean canvas. It's the creative process that has attracted me to pursuing arts and design. I have presented fashion illustrations and garments at the past two fashion shows and exhibitions the institute has held. Art influences and reflects the world around us and, as the world changes, so does its forms.
romeartprogram.org
#romeartprogram
@kalasiris.by.yara
Rome Art Program – Art As Power