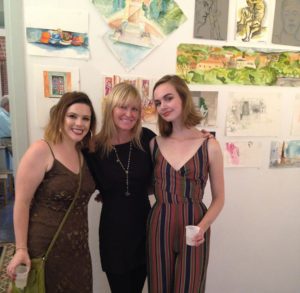 From the 2016 RomeArtProgram has selected Keri Rosebraugh -Carole Robb TA 2016-
to contribute to "Throwback Thursday":
–>Keri Rosebraugh : "My experience as a member of the Rome Art Program's teaching faculty -specifically Carole Robb's teaching assistant- gave me an upclose and personal encounter with the intense history of Rome, and how the strong legacy plays an important role in the city's mindset today. Each lesson was prudently designed in a particular location of Rome which juxtaposed perfectly the old and new parts of the city – architecturally and culturally. This diverse syllabus enabled the students to learn how and why each palazzo was formed, as well as the significance behind many sculptures and paintings we observed throughout the summer, whether they were antiquities or pieces of contemporary art.
This enhanced my personal artistic development immensly as my current body of artwork is based on studying the
relationship between humans and water; hence, researching the history of Rome's ancient waterways proved
invaluable. Additionally, the sense of community within the program was signi cant. As an artist, I believe we all
benefit from group critiques and dialogues at every skill level, so I cherished the weekly reviews of the student's
artwork. These not only gave analytical feedback but also exhibited the large volume of paintings created each week,
inspiring students to progress further the next week. The Rome Art Program left me with countless facets that I will
treasure for the rest of my life, but most fondly I remember the comraderie present within the faculty. Being part of this
energy and watching it trickle down to the students who formed their own friendships and memories for many
years to come was priceless.
In this last year since my time with RAP, I have collaborated with diverse artists on engaging projects surrounding
the themes of ecology and nature. In October 2016 my artwork was included into the Natural History Museum/
State Darwin Museum in Moscow, Russia for an exhibition titled "Now&After." In addition, I was fortunate to be asked
by Serbian artist and professor Dejan Atanackovic to give an artist's talk at SACI in Florence, as part of his lecture
series titled, "An Idea of Home." It was an honor to be a contributing artist alongside Patrick Hogan from NASA,
Rodolfo Lacquaniti, artist and architect, and Francesca Bigoni, anthropologist. In November 2016, the
exhibition titled "Plantarium," curated by Manuela Enna and Daniel Buso was hosted at the House of Carraresi
Museum in Treviso, Italy. I was one of twenty one participating artists, who contributed in creating an interactive
journey to discover nature through contemporary art. In July of 2017 I will be spending three weeks at the
Scuola Gra ca, in Venice, utilizing it's printmaking studios to continue work on my water project. I will end the
year with a two month residency at the Camac Foundation outside of Paris, France, hoping to again push my artwork
further and experience new colleagues and surroundings".
romeartprogram.org
#romeartprogram
#KeriRosebraugh
Rome Art Program – Art As Power