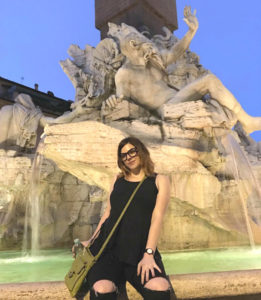 From the 2016 RomeArtProgram has selected Madeleine Finley Alumna to contribute to "Throwback Thursday":
–>Madeleine Finley : I began Graduate school at The School of the Art Institute of Chicago the Fall right after my summer in Rome with the Rome Art Program. I paint large abstracted landscapes using motifs of agriculture and architecture, and they are all rooted from my time in Rome. The parks, ancient villas, and city planning of Rome is very unique and specific in that it often combines nature and architecture. RAP taught me not only formal drawing and painting technique and formal language, but we were able to attend the Open Studios of the Academies. I've kept in touch with a few of the artists I met at the American Academy and also the British Academy. As a young artist, it's been nice to keep an exchange of ideas and projects while being in different places but still in the same Art World.
Since attending RAP, I've completed my first year of Graduate school and have been in two group shows. My work is currently hanging in the CICA Museum in South Korea in their "Contemporary Landscape" Exhibition.
romeartprogram.org
#romeartprogram
madeleinefinley.com
Rome Art Program – Art As Power