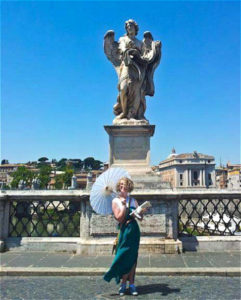 From the 2012 RomeArtProgram has selected Ayrlie Lane Alumna
to contribute to "Throwback Thursday":
–>Ayrlie Lane : "Being able to immerse myself into the "Roman culture" during my stay was an incredibly significant experience to me. To walk through ancient architecture and ruins daily, to study the works of famous artists and sculptors, and spend hours painting vibrant scenery is something that I will always cherish.
I met amazing people from many different countries, with whom I travelled across the country on our weekends, travelling to Florence, Genova and Venice.
I valued the artistic critiques of our teachers and fellow students, whose wide array of personal styles and strengths encouraged me to challenge my own practices in new ways.
Since completing my time with the Rome Art Program, I received my Bachelor in Fine Art and went on to study in Specialist Makeup Services, where I developed a love for body painting and conceptual makeup.
My current artistic practice incorporates traditional painting and drawing, combined with body painting, costuming and recycled elements.
In 2014 I exhibited a series of studies of movement and the female form as a solo artist at Courthouse Youth Arts in Geelong, Australia. In 2015 I presented at the RAW: Exposure Artist Showcase as a body painter and makeup artist.
In Summer of 2017, I will be the lead artist for the People's Piano project, a live painting concept in the Geelong arts precinct".
romeartprogram.org
#romeartprogram
#AyrlieLane
Rome Art Program – Art As Power